Previously on Australian Survivor 24 giants of the game returned to the island to get revenge, redemption or to detain their crown. John still loved speedos, Shonee is still a queen and Locky is still bae. After a gruelling opening reward challenge the Mokuta tribe got to claim a pre-built luxury camp, leaving Vakama to suffer through their first day. Thankfully though it lit a fire under them, or more specifically Locky, as he dominated the challenge and secured immunity for the flailing tribe. Back at camp Lydia quickly got to work getting revenge on Shane, rallying the numbers to take out our queen despite her valiant efforts to save herself.
The next day Mokuta were decidedly more upbeat, though mainly because Shonee was telling an iconic story where she pulled over an uber to pat a dalmation, bonding with its owner and then getting employed as his personal assistant. I mean, thank you Shonee. And thank you editors for making up for the severe lack of Shontent leading up to the season.
While everyone was falling under Shonee's spell, Henry went slinking through the jungle to take a look at his latest idol. Rather than trying to make inroads with his tribe after isolating himself by aligning with Shane. He returned to camp and immediately started chatting to Harry by the fire, hoping to throw him off the scent that he voted for him the night before. Speaking of Harry, he got to work wooing Shonee, suggesting that the two of them should align with Nick. And just like that, I like Harry because he has exquisite taste and I want to be their best friend.
We finally checked in on Vakama where poor Locky was still rubbing his stick, desperate to start a fire while Jericho was like a phone when it is out of battery. Meaning, obviously, that he is running on empty. What a wordsmith?! While Phoebe didn't call him out and calmly sat chatting, AK and David joined Locky to work on the fire. While once again AK grew tired of the calmness, hoping to lock in some allies and cause some chaos. The battle lines, apparently, were drawn by age lines with the old hags aligning, while the hotties – like him – all wanted to work together. Which was great for David, given he is super pretty but also almost 40. So I assume he is the swing vote, and honestly, I want to swing on him like a big old vine.
Adding to his beauty, he continued to rub his stick well into the night until finally, he got an ember and started a fire for his freezing tribe. I mean, what a beautiful provider?!
My boy Jonathan arrived for the reward challenge where three people at a time from each tribe would face off on a platform at sea, working to push the others off until only their tribe remains. It was for the chance to shop at the Survivor store, getting the choice of a range of critical items to make their camp life a little bit easier. In the first round Lydia, Abbey and Sharn were shockingly destroyed by Daisy, Moana and Brooke, thanks to Daisy crushing Lydia in an iconic scene. Zach, Lee and Nick were net to wrestle Locky, Mat and David, and honestly I didn't care who won, only that they were all writhing around with each other. After Locky pulled Mat into the water, the round was halted as Zach heard his knee pop leaving Nick to battle against Mat and David all by himself. Which was adorable, particularly when David refused to battle to give Nick a fair shot.
I mean, fucking swoon.
Queens Shonee and Michelle eventually climbed onto the platform with Abbey to battle against Jacqui, Phoebe and Flick. With Flick and Jacqui quickly taking out our Queens, Abbey and Phoebe battled for over 20 minutes, with Abbey twerking in Phoebe's face like she was angling for a rimjob until Phoebe freed herself from her clutches. After pacing around each other, Abbey lunged at Phoebe's jugular leading to yet another epic battle before Abbey eventually scored a point for Mokuta. The boys made a return to the fray with John, Henry and Lee facing off against Locky, David and Mat – again – leading to another stunning sight of shirtless men wrestling, with Henry showing some crack and John trying to dack his opponents before going into the drink with Mat. Locked in a hug, Henry and David decided to chat about their positions in the tribe. Much to Moana's – who I keep forgetting is in the cast – chagrin. Ultimately David pushed Henry in, leaving Lee to fight for his tribe's survival, ripping Locky's shorts off to stay alive. Unaware that Locky has zero qualms about getting nude in a challenge.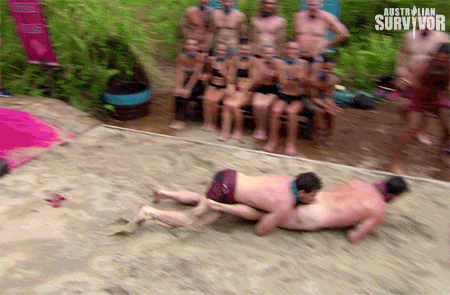 After securing victory, Jonathan surprised Vakama with the twist that only two of them will be going to select their reward from the shop. With the tribe selecting Phoebe – who had never, ever won a reward – and Locky, who took off his shorts to score the win.
With the duo off shopping, the rest of Vakama returned to camp and quickly congratulated Daisy for embarrassing Lydia and Abbey in a physical challenge. Focusing on the wrong things, Jericho asked what the shop would look like before suggesting that since they were split up, they likely will be getting a dilemma. And oh my goodness, have I been too hard on Jericho because that is the perfect thing to point out after seeing the only other winner of the cast just became the first boot.
Meanwhile over at the shop Phoebe was just excited to actually win a reward before they discovered they were able to snatch five rewards, either for themselves or the entire tribe. With that, they selected the chance to invite 2 people to a reward that their tribe loses – for themselves), a flint for the tribe, a bowl of cookies … which they cracked before leaving the store like a tantruming toddler, and then a boring old tarp and some potatoes. Trust solidified, the sneaky duo returned to camp with Phoebe wisley choosing to stay quiet and let Locky tell the story. Well until Daisy, AK and Jericho started to see holes in their story, crunching the numbers and making them nervous. Which led to Locky and Phoebe relenting and telling their allies that they also received cookies, which they stashed to share with the rest of the Heathers.
Before we could find out whether they would be sprung with the cookies, my love Jonathan returned for the immunity challenge where each tribe was required to run under an obstacle, up a tower and release six barrels which they would race like Sierra-Dawn Thomas Anglim before standing them on discs and tossing sacks on each of them. Once they stand them up. As prophesied by Queen Michelle, Mokuta took an early lead, motivated by their loss at the reward challenge. Mokuta continued to slowly pull away, until Vakama's final barrel got stock in their chute. Allowing Mokuta to push further ahead, with Queens Michelle and Shonee riding a barrel like it was their throne. Vakama slowly started to close the gap until Moana slipped off her barrel, meaning Mokuta could start the sack tossing before the others had even finished the course. Despite flailing in the previous throwing challenge Lee redeemed himself, scoring the first two points, with Henry scoring another before Vakama finally joined the fray. While Mat and AK desperately tried to close the gap, the lead proved too much to overcome, with Lee and Henry scoring immunity by the skin of their teeth.
And proving Queen Michelle to be a trusted psychic.
Back at camp the tribe quickly smashed a meal before everyone started to scramble, with the Heathers excusing themselves to scramble while the olds were left back at camp to find a way to save themselves. Jericho suggested they eat all the food while they were away, which takes away from his earlier wisdom. Meanwhile over with the young'uns, they were locking in the vote against Moana who was terrible at the camp with the bonus being that it would break up her close alliance with Mat. David however wasn't sold on the idea, feeling it was way too obvious for them and as such, suggested they too get rid of their tribe's previous winner. The group quickly locked in the vote and split up, before Phoebe shared that she didn't want to vote for Jericho but also didn't want to rock the vote earlier.
Speaking of Jericho, he was rallying the minority group, suggesting that they join together to vote out Daisy. With that done and dusted, Mat and Jericho bid adieu to Jacqui, Moana and Tarzan and got to work trying to woo AK and Phoebe over to their side instead. And while Phoebe was sold on their pitch, knowing she and Daisy have no plans to work together long term, like Nick last night, she didn't want to put her neck on the line.
At tribal council Phoebe was nervous to be back at tribal council after her losing ways on Aganoa. David felt like no time had past since his last stint at tribal council before Flick put her foot in it, saying that she is voting for who is best for 'us'. Jericho quickly questioned who the 'us' are before Moana straight up pointed out the 7-5 split amongst the tribe. Phoebe tried to downplay alliances before Mat played up his loyalty, reiterating that you need strong allies to make it to the end. AK shared that he was just keeping an ear out to the answers at tribal council before making his decision, making everyone in his alliance nervous and poor Phoebe look like she wanted to throw up. Phoebe changed tact and reminded everyone that she came from the worst tribe on her season and as such, she was really focused on staying strong to avoid losing again.
Jericho played the emotional card, trying to squeeze out some tears and sharing how much he loves everyone and how sad it will be to see someone go. Surprisingly the tears made Phoebe start to feel guilty, and as such, question if she was making the right decision. With that, Moana saw hope – get it? – and told Jonathan that the tribe would be going to vote before the opportunity passed themselves by. With that, Jonathan heeded her advice and the tribe voted, with the Heathers winning the battle and sending the only remaining victor from the game.
While I wasn't his biggest fan in his first season – I mean, he was competing for my affections with Locky so never stood a chance – I truly felt sorry for him as he wandered into Loser Lodge. I mean, as soon as he saw Shane had gotten the boot you could see that he knew he would be following her straight out the door. As such, I pulled him in close, apologised for being harsh, threw out a confusing metaphor and then whipped out a big ol' plate of Jericho Maloo Bonda.
Essentially the Indian equivalent of his first season's victory meal, bondas are gloriously crisp balls of fluffy, spicy potato. Do you even need me to say anything else to convince you? Get thee to a kitchen, stat!
Enjoy!
Jericho Maloo Bonda
Serves: 4.
Ingredients
6 potatoes, peeled, boiled and mashed
olive oil, to taste
2 onions, diced
2 green chillies, diced
2 tsp ginger
1 tsp chilli flakes
2 lemons, zested and juiced
2 cups rice flour
salt and pepper, to tase
Method
Preheat oven to 180C.
Heat a good lug of olive oil in a large saucepan and sweat the onions for five minutes, or until semi-translucent. Add the ginger, chilli and chilli flakes and cook for a further minute. Remove from heat and stir through the lemon zest and juice.
Place the pre-mashed potato into a large bowl and add the zesty onion mix and rice flour. Season and stir with the wooden spoon until it is well combined.
Form into balls, somewhere between the size of golf balls and tennis balls, and transfer to a lined baking sheet until all the mixture is done.
Drizzle with oil and transfer to the oven to bake for 20 minutes, or until golden and crisp.
Devour with some raita, in a state of mixed-metaphor bliss.
As you can probably tell, we are very social but the fun isn't only limited to celebrities! You can follow us on Instagram, Facebook, Twitter, Pinterest and Tumblr.