Previously on Australian Survivor physical battles dominated the game, leading to a focus on strength on each tribe. After going on a losing streak, Vakama were determined not to return to tribal council and came to both challenges fired up. After scoring a fish and chip reward – kinda – Mat found an idol in front of the entire tribe, much to Locky's dismay who finally wanted to be the person to snag an idol. At the immunity challenge – which was again super physical – Michelle quickly dropped out, putting her tribe on the back foot from the start, which tragically led to their loss. Also Shonee sat out on a bench which featured a clue to the hidden immunity idol which see didn't see, which is just as tragic as you could imagine. Back at camp Henry pushed to get rid of Sharn, which made Nick decide it was Henry's time to go. While Abbey and the Athletes – who sound like the world's shittiest band – opted to focus on strength and sent Queen Michelle out of the game.
The next day Mokuta was feeling mighty miserable, which obviously led to John welcoming Lee into the Australian Survivor nudity club. The self-annointed Dumb Dumb Club frolicked, flipped and showed off their gloriously pasty buns and hot damn, I'm drippin' more than the Fijian skies.
Meanwhile over at Vakama the mood was just as low, though tragically far more clothed as Locky worked his arse off to keep the tribe afloat in the torrential ran. Add to that the fact he is sitting pretty in the majority alliance AND is falling for Brooke, and you could say that Locky is on cloud nine. Wait, scrap that, he is fixated on the fact that Mat has an idol and as such, he decided to start wearing it around camp to taunt poor love struck Locky. As Mat desperately wants to make him look as silly as possible.
We returned to Mokuta where the rain had stopped, the clothes were tragically back on and the tribe were doing some home improvements like a less chic version of Brad and Monica Culpepper. Well except for Henry, who was busy doing his best Coach impersonation while Nick worried about how to deal with him after spooking him at the last tribal council. With that Nick started to do damage control as Henry ranted and raved about how to save himself and play like he has no other option, while Nick sat in the shelter looking like he is about to shit himself. Based on the conversation Nick decided that Henry's next target is going to be Shonee, so instead of trying to manage him, approaches the rest of the tribe to warn them how dangerous Henry is, so that everyone manages the situation on his behalf.
Speaking of Henry, he was reflecting on his first time in the game and remembering his mother, who passed away just before he went out. Not one to be down for count, Henry channelled his grief and as Nick feared, started working his way round the tribe to show how strong he is and play up how weak our icon Shonee is.
My love Jonathan arrived for the reward challenge – sadly clothed – where each tribe would face off one-or-one to knock an idol of the other's handle with the first to four scoring victory. For a huge pack of cones, so you know Harry is excited. Mat and Henry were first to face off, with Henry chasing him down like prey and quickly snagging the point. Abbey made quick work of Moana, Queen Shonee was felled by Phoebe, Zach destroyed AK before Henry's tricky juggling skills scored Mokuta the victory over David. Before the tribe headed out to smash their ice cream, Locky and Phoebe interrupted the proceedings and told Jonathan that they would like to use their previous reward and join then at the ice cream shop. Thankfully Jonathan is a messy icon, and asked them which two people they would like to send, outing their lie that it had to be used by them to the rest of their tribe.
At reward Harry was well and truly in his element, making ice creams and running around like a delirious child. Speaking of deliriousness, Henry was thrilled to show off his strength, so was working overtime to make as many friends as possible while they were all sugared up. Meanwhile Locky and Phoebe were filling everyone in on how much better the Mokuta camp is before Locky split up to gather intel from his rivals. While the tribe, smartly, stayed quiet. Making it super awkward, and honestly, painted a target on his back. Meanwhile my queen Shonee was loving the sugar but more importantly, loved finding a hidden immunity idol clue under a log. Redeeming herself for the day before. She bided her time until the tribe cleared out to wash their hands before she learnt that the idol was hidden under the well. She went for a wander into the jungle to find the well and got to work lifting it out of the way, grabbing the idol and then returning the well to its place.
Oh and she was wandering around in a jumpsuit and slides.
Terrified about being caught, she panicked about whether the well looked weird before her best friend Nick stumbled upon her. After confirming that the well looked normal, she looped her ally in on the intel and honestly, their happy dancing was too pure for this world and I ship the hell out of them.
The delicious Jonathan returned for the immunity challenge where the tribes were required to build a staircase out of heavy logs before collecting a hammer, pounding in some stakes, releasing a tunnel, climbing through a mud pit and some obstacles before shooting some baskets from a deck using a catapult. Mokuta got out to an early lead on the log stairs while Vakama struggled to grip their logs, given they were wet and slippery. I mean, I'm sad I have to use Jono's smutty puns, but they also make me so proud of him. While I was welling up with pride, Vakama started to close the gap when it came to shooting baskets, thanks to Lee's extremely steep learning curve. With both tribes even on nothing, Henry swapped in for Mokuta while Locky started to score basket after basket. Ultimately scoring a huge come from being immunity for Vakama while Henry narrowly avoided a nudie run, scoring one basket for the tribe.
Back at camp Nick quickly made it his priority to rally the troops against Henry, however was banging his head against a brick wall given all of the athletes are so passionate about keeping the strength. Thankfully Lee surprised me and was receptive to the idea of getting rid of Henry, and the plan quickly evolved to splitting the votes between him and Zach and getting rid of Zan Hen. Sadly for them however Abbey and Lydia weren't feeling the plan, and Henry was busy winning over John by the fire. With Zaddy John, tragically agreeing to join him to vote out Shonee. They quickly pulled in Zach before taking the athletes aside to rope them into the plan, unaware that Harry – who invited himself along – is actually aligned with Shonee.
Harry took this information back to his fellow rascals, with Shonee quickly letting him know that she found an idol and as such, she will use it if she gets even a hint of danger. Wanting to keep the idol for a rainy day however, they split up to change the tide of the vote and continue to highlight Henry as the biggest threat. While they started to make inroads, Lydia warned Henry that people are nervous about his erratic gameplay and it would be wise to play an idol should he have one. With that, he decided to quickly throw together an idol and then plant and find it in front of everyone at tribal council. Which hopefully would be enough to force Shonee to play her real one. And given she is the CEO of the tribe, why wouldn't she?
At tribal council Nick admitted that the tribe is still not really cohesive but hopefully after tonight, they actually will be. He used it as a rallying cry against Henry, highlighting the importance of predictability to the game. Abbey spoke about playing emotionally, Lee said that try as they might, they can't separate their hearts from the game. Jonathan asked Lydia if they were strictly targeting the weakest, which she tried to dance around and said that she is solely focussed on doing what the majority want. Obviously Zach was all in on keeping the tribe strong before Shonee reminded everyone that they have actually won the same amount of the challenges and as such, they shouldn't be so focussed on losing two immunity challenges in a row. John lied and said literally anyone could go tonight before Henry weighed in and said that that is a lie and in fact he or Shonee would be going tonight. Though he at least can add some strength to the tribe.
Shonee countered that she has something far more important and that is loyalty and doing what she says. Henry tried to counter it, challenging people to give him a chance. Nick tried to bring things back to making a logical decision and getting rid of the erratic players, while Henry's eyes darted around looking for his fake idol amongst the trees. Shonee appeared to grow more and more nervous and as they were about to vote, Henry showed off his erratic behaviour, making a huge deal about finding his fake immunity idol. Shonee and Nick were unconvinced about his display and tried to calm the tribe, but they were all extremely nervous as they headed out to vote. Given she was too stressed to be blessed, Shonee played her idol and challenged Henry to play his, should it be real. Which it wasn't so he didn't, and as such, he found himself voted out of the game after Queen Shonee negated the majority of votes that were cast against her.
Whether it was in his best interests or not, Henry played his heart out and that is something I will always love about him. Plus, he is a total babe, despite not getting in on the nudity action. I took him in my arms as he arrived at Loser Lodge before sitting him down and berating him like Tyra did Tiffany for daring to try and target the one true Queen of Australian Survivor, my Shonee.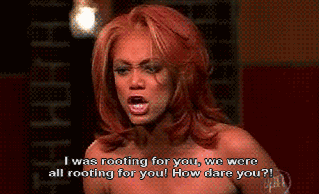 Emotionally spent, the only thing I could do was apologise for being not mad, disappointed in him and serving him a piping hot bowl of you-should-have-aligned-with-Shonee Henry Gorenicholson.
With as much fire as Henry had right out of the gate, this quick throw together meal appears anything but. Rich, tasty and packing a punch, you can't be sad with this on your plate. Even if you don't make the jury and are unlovable.
Enjoy!
Henry Gorenicholson
Serves: 4.
Ingredients
2 tsp peanut oil
2 shallots, thinly sliced
4 garlic cloves, minced
500g beef mince
salt and pepper, to taste
2 bunches bok choy, trimmed and halved
1 red capsicum, thinly sliced
1 bunch broccolini, trimmed and cut into 2cm lengths
2 tbsp kecap manis
1 tbsp sriracha sauce
1 lime, zested and juiced
200g thin egg noodles, cooked as per packet instructions
Method
Heat the oil in a wok over high heat and once scorching, add the shallot and garlic and cook for a minute. Add the mince and cook, breaking up with a wooden spoon, for a couple of minutes, or until nice and browned. Season with a good whack of salt and pepper, and reduce heat to medium.
Stir through the bok choy, capsicum and broccolini, and cook for a further minute or so. Add the kecap manis, sriracha, lime zest and juice, and stir until sticky and starting to thicken.
Remove from heat and toss through the noodles. Adjust the seasoning and serve immediately.
And devour. Always devour.
As you can probably tell, we are very social but the fun isn't only limited to celebrities! You can follow us on Instagram, Facebook, Twitter, Pinterest and Tumblr.