Previously on Australian Survivor the All Stars were immediately thrown into some brutal challenges, the first of which featured a clue to a hidden immunity idol hidden at tribal council. And while Henry was lucky to grab it unnoticed, it was only valid for three tribal councils. When his tribe won the next two immunity challenges, he handed it off to Mat to cause some chaos at tribal council. Mat and the leader of his rival alliance, David decided to come together to help protect each other, and for David, to get revenge on one of his allies. Brooke then found an idol hidden at camp, completely throwing their plans into chaos. Until they gave an Oscar winning turn at tribal council and Mat correctly played him idol on Jacqui, before David begged Brooke to play hers on him and poor Daisy was gobsmacked to be booted from the game third.
In time to do exit press for her first season.
We checked in with Vakama the next day where the excitement of the previous tribal council was a thing of the past, and instead, Jacqui was showing off her killer physique. I mean, she looks like what Teresa Gudice wishes she looked like in a bodybuilding comp. Back at the shelter Mat was still processing his emotions from the epic tribal council, still shocked that the plan worked and that David didn't backstab them. On the flipside the wounded majority alliance were feeling super nervous, unsure how Mat found out the votes would pile up on Jacqui and as such, speculated that there is a rat in their midst. Locky approached Mat to see if he could get any intel from him about the mole and while Mat dutifully told him that it was an educated guess, Locky did not buy it.
Speaking of the mole, David was on cloud nine – flushing both the idols, solidifying his secret alliance with Mat and getting his revenge on Daisy. Which I'm not really sure was needed, but since it was spectacular, I will let it slide. That being said, David was nervous and knew that he needed to keep his story straight and make sure nobody compares stories and realises he is a mole.
Meanwhile over at Mokuta Nick was busy knighting Lee for his spaghetti arms, while Henry was quietly sulking the corner since he is left right out on the bottom of the tribe. He regrouped and decided to approach Nick, bonding by the water well and hoping to form an alliance. Sadly for Henry, Nick learnt from his first season and was happy to sit quietly and wait for the chance to strike and as such, cannot align with Henry. Though obviously he pledged his loyalty to Henry and planned to ice him ASAP.
My love Jonathan graced us with his presence for the reward challenge where one at a time, someone from each tribe would face off on either side of a chest and try to push it and therefore their rival, off the edge of a dock. With the winning tribe getting some piping hot fish and chips. Oh, but before that AK threw Henry straight under the bus and announced that Mat played an idol at the previous tribal council THAT WAS GIVEN TO HIM BY HENRY AT THE LAST IMMUNITY CHALLENGE. I mean, I didn't love him in Season 2, but AK is a deadset messy legend and I live. Henry was first to face off against Mat, allowing plenty of time for people to make jokes about them being idol buddies. Despite looking like an easy win for Mat, Henry stood his ground and clawed back the lead … until Mat overpowered him and sent him into the water.
Next round Jacqui chose to avenge Zach's shitty views, however was sadly pushed straight into the water. But damn I love her. Lydia was up next, with AK challenging as Locky reminded him that Lydia is strong as shit. Direct quote. Despite being strong as shit and putting up a hell of a fight, AK dominated and scored another point for Vakama. Net up were Tarzan and Harry and hot damn, Tarzan is a beast and I live, easily winning the point. Though sadly not giving Harry a kiss like the last challenge. Just some hella sass on his way to winning the reward for his tribe.
The victorious Vakama were thrilled about the prospect of smashing their fish and chips, until they discovered they had actually won fishing gear and some potatoes, oil and salt to make chips once they catch the fish. With everyone trying to pretend they weren't bitterly disappointed, they used the time to hunt for a clue or idol amongst their spoils to make the win moderately worth it. Mat then flipped the crate and found the idol hidden inside it in front of the entire tribe, leaving the majority furious and Mat, well, he was left smiling with a big, shit-eating grin.
As the majority went fishing to calm their nerves, Mat pulled Moana aside to let her know about his secret alliance with and growing trust in Dave. Finally finding her missing spark, Moana was thrilled about the turn of events and was happy to make a deal with the devil if it gets her further. And keeps Mat and David as the biggest threats. I mean, does Moana need a nemesis like Russell to keep her fire burning? Whatever it is, I love her again.
Later that night Dave was feeling nervous about his growing alliance with Mat, so slinked away into the night to make a fake hidden immunity idol. Well eventually, after hours and hours trying to cut a gem off their tackle box. Side note: aren't all tackle (boxes) a gem?
Jonathan returned for the immunity challenge which required the tribes to hold barrels over tiles with a rope, with people allowed to step out of the challenge and hand their barrel over BUT as soon as a single tile breaks, the tribe loses. Meanwhile the iconic Shonee sat out of the challenge, directly on top of an immunity idol clue and please don't let her follow Michaela's lead and miss it. David and Lee had a Zoolander approved model off in the first five minutes before Michelle dropped out of the challenge and handed her barrel off to Zach. After half an hour Zach passed a barrel off to Henry, by way of Lydia, while Sharn struggled to hold on. Out of nowhere Phoebe passed her barrel off to Locky before Lee took over Sharn's barrel. After more than an hour and 15 minutes, and some desperate back and forths, Zaddy John dropped one of his two barrels and handed victory to Vakama. And Shonee exited her seat without noticing the idol clue.
Back at camp Michelle was feeling nervous about being the first one to drop out of the challenge, particularly since her tribe was made up of three-four professional athletes, depending on where you stand with washed-up Gladiators. Lee pulled Michelle aside, with her reminding him that she is on the bottom and as such will vote for anyone other than her. She echoed that sentiment to Sharn, John and Zach. Though she could tell that nobody was actually interested in saving her. Meanwhile Abbey was using the loss as motivation to keep the tribe strong, dejectedly tell everyone that they need to start winning challenges – after just coming off a winning streak – and get rid of Michelle. Not to be outdone, Lydia too was rallying the troops to get rid of the weakest.
Thankfully Henry knows that brute strength is not how you win Survivor and as such, decided that Sharn is the smarter vote given how persuasive she can be. Unless in front of a Survivor jury against Shane, obvi. Henry pulled Zach aside, with the latter quickly agreeing to getting rid of Sharn instead. He then approached a receptive John and Michelle, before making his way to Nick. Who was not thrilled by the turn of events, and as such, wanted to flip the vote on Henry. For trying to flip the vote on Sharn. With that Nick approached his little rascals, with both Harry and Shonee keen to change things up and get rid of the threat. Nick approached Lydia, Abbey and Lee to try and get them to see sense and get rid of the very sketchy Henry. However, sadly, that made Abbey nervous about Nick being shifty. Though not enough to get rid of him, since he is still stronger than Michelle.
At tribal council John struggled to stick his torch in the slot – I have one ready for him, though – before talking about their loss at the challenge and how people dropping out impacted them. Zach was surprisingly diplomatic before Michelle went all in, reminding everyone that after Lee bombed the first challenge they agreed that losing a challenge wouldn't be punished in a boot. Sharn agreed that challenges will always cater to different types, before Michelle commenced pleading to the athlete mentality and quoting football. Lydia agreed that they do need a good mix of skills, though didn't seem to convince Queen Michelle who reminded everyone that loyalty is just as important. Particularly if a tribe swap is imminent. John and Henry agreed loyalty and numbers are critical to making it further, before Abbey agreed it is important but, yeah nah, she cares more about strength.
Which obviously annoyed Michelle.
Nick joined the fray to remind everyone of the importance of forming a cohesive, harmonious group. Shocking nobody, Zach was focused on strength before Harry countered that his vote is solely based on forming solid alliances, while Shonee was just glad to finally be asked a question at tribal council. Michelle again reminded everyone the importance of trust before Henry gave her the kiss of death, saying he is confident that the votes are going to go his way. With that, the tribe voted and tragically, Queen Michelle was felled.
I knew that we would lose one eventually, but I am so heartbroken to see one of our Fourth Place Robbed Goddesses exit the game. Though I guess at least Mish kept things semi-consistent by becoming the fourth boot. Which is the only positive thing I could come up with as I sobbed into her arms as she entered Loser Lodge.
Remember when Michelle completely destroyed Ben at tribal council in Season 2?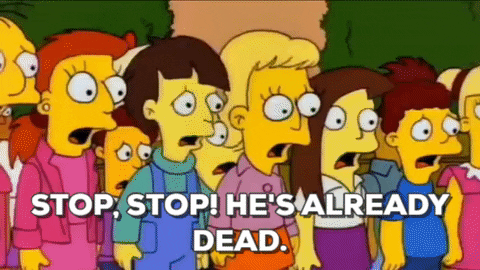 That is how I choose to remember Michelle. Not as the woman that was felled by the strength first mentality which comes from the brutal challenges of Australian Survivor. Lucky my Nigella inspired Michelle Ragougan is hella comforting, because I truly needed it.
Sweet, salty and covered in a silky melting of cheese, the ragu is the perfect hearty little meal to whip up when you're down. Add in a little bit of chilli to Nigella's classic, and you've got perfection. No offence Nige.
Enjoy!
Michelle Ragougan
Serves: 4.
Ingredients
olive oil
2 onions, thinly sliced
3 garlic cloves, minced
200g pancetta, diced
500g lamb mince
⅓ cup marsala
salt and pepper, to taste
400g can chopped tomatoes
100g green lentils
200ml beef stock. You could use chicken, but the bird and land combo makes me anxious. Like the thought of Flick and Shonee carrying the Fourth Place Robbed Goddess flag alone
125g red leicester cheese, grated
Method
Heat a lug of oil in a dutch oven and sweat the onion and garlic for a couple of minutes, or until soft and sweet. Add the pancetta and cook for a further five minutes before adding the lamb mince and cook, breaking up with a wooden spoon, until browned.
Crank the heat to high and add the marsala and a good whack of pepper – and salt, if ya like it salty – stir while it bubbles like crazy before adding the tomatoes, lentils and stock. Bring to the boil, reduce heat to low and simmer for half an hour, or until the sauce has thickened up.
Serve immediately, cover in a generous heap of cheese and devour. Knowing that eating you feelings is the only appropriate way to work through your pain.
As you can probably tell, we are very social but the fun isn't only limited to celebrities! You can follow us on Instagram, Facebook, Twitter, Pinterest and Tumblr.