While we've both grown older since first becoming friends in '60s, the sweet, sparkle was well and truly still in her eye as I spotted her coming through the international arrivals gate. We gingerly – no pun intended – ran across the crowded room and straight into each other's arms.
She held my face in her hands and said something that shocked me to my very core.
"I can't believe it has been 16 years since we've seen each other!?"
Somehow I managed to have a mouthful of water, did a spit take and then fainted from shock. Well shock and my passion for causing a scene.
As I was roused awake by a hunky security guard and his less-so offsider, I locked eyes with Dawn once more and like a less selfish old Rose, whispered "it's been 16 years? 16 years," I then inserted a dramatic pause, "since the inaugural Spudfest?!"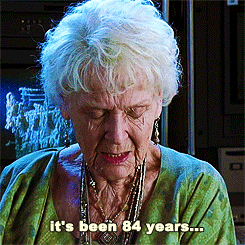 "Yes my dear, and I've missed you each and every day," said my dear friend and Idaho potatoes spokeswoman.
After the security guards carried us to our car – princess style, of course – we ventured back to my house and quickly got to catching each other up on the past decade and a half. We held hands, laughed, cried and wondered what the rest of the island gang would think seeing us together again.
Too worked up from the emotion of the day, neither of us felt like gorging on a rich, comforting meal. Which was convenient, because I was hella keen to nosh on some Popcorn Wells like in the good old days.
While it is hard to make popcorn that tastes as good as the stuff at the movies – I think the butter and salt needs the hours sitting in the warmed, glass case of emotion to fully release their flavours – this little number is pretty good fresh. Generously buttered, lightly salted, it has your stomach craving more, more, more. That's how it likes it. That's how it likes it.
Enjoy!
Popcorn Wells
Serves: 2 dear friends.
Ingredients
2 tbsp vegetable oil
½ cup popping corn
salt, to taste
melted butter, to taste
Method
Heat the oil in a stock pot over medium heat until the oil is shimmering.
Add a kernel and if it starts spinning, or better still pops, add the rest of the corn. Immediately pop on the lid and shake the pan. Return to the heat and once the popping kicks off, agitate the pot semi-frequently to keep the unpopped pieces shimmying down to the bottom.
Once the popping has all but stopped, remove from the heat and season with salt. Cover again and give a good shake before pouring in melted butter to taste, covering again and giving a more aggressive shake to ensure it is all coated.
Then devour. At SpudFest, or at home. Your choice.
As you can probably tell, we are very social but the fun isn't only limited to celebrities! You can follow us on Instagram, Facebook, Twitter, Pinterest and Tumblr.