Previously on Australian Survivor after Shonee and Zach were booted to exile, Jonathan decided to switch up the tribes. Before the icon and her newfound friend returned to the game, with each being sent to one of the new tribes. Filling Abbey with dread, given she was reunited with Shonee. New Mokuta won the first reard challenge after the swap, where they won an enigmatic Pandora's Box. Which they took back to camp and learnt that two keys were hidden on the island, with the first person to find one and open it claiming the ultimate advantage inside. Everyone was off and racing before Nick found the key, roped in Phoebe to be his lookout and grab the extra vote advantage before anyone noticed. Mokuta once again proved unstoppable in the immunity challenge, leading to a showdown between Abbey and Shonee. With Locky, Brooke, AK and Flick firmly planted in the middle. Thankfully fellow fourth-placed robbed goddess Flick chose to side with Shonee, and the tribe blindside Abbey from the game.
We checked in with Mokuta the next day where Moana and David were bonding over their improved surroundings. However the uncertainty about who opened Pandora's Box was driving David mad, and as such, he got to work trying to find the culprit and in turn, find out the advantage they claimed for themselves. While he listed the potential thieves though, he conveniently missed Nick … who was at that very moment doing a David impersonation with a really cute scarf. That I need now, please and thank you Nick.
Over at Vakama Shonee was living for her breakfast, flying high on the killer tribal council the previous night. Like Arya Stark, she was thrilled to cross a name off her list and was ready to keep going. Knowing that she gets by on her personal relationships, Shonee continued her charm offensive and bonded with her season-mate Mat. I mean, he even made the Queen a friendship bracelet – I live! Mat too was trying to make as many friends as possible, knowing that he was reunited with Lydia, who is out for her own revenge from their original season. When he and Shane blindsided her. Speaking of Lydia, she was trying to do a complete 180 on her game, targeting the strong, athletic Mat. With that, she tasked John to go make friends and why isn't he doing a nudie run? That is the John I love.
Returning to Mokuta, Zach was giving me the goods, washing off, flashing his buns and OH MY GOD, do I love Zach?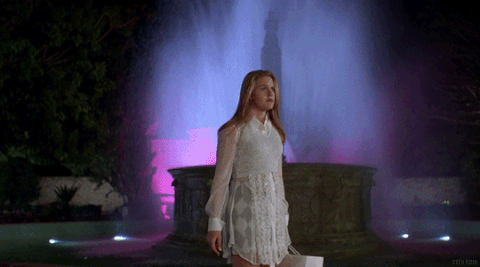 Before I could explore my feelings or boner, Nick was feeling nervous about the state of play on Mokuta, given they haven't been to tribal and he isn't sure where the loyalties lie. He was confident in his alliance with Sharn and Lee, knowing that David and Phoebe were together and Tarzan, Moana and Jacqui were close, and as such, he needed to snap up one of the other groups to take control. And use his extra vote if needed. Feeling less nervous, Moana was thankful to have two of her closest allies with her, loving the new beach and fired up to make some moves and get back to her dear friend Mat. Unlike her besties however, she was nervous about David and as such, wanted to get him out ASAP. Mo approached Sharn to share her fears about David and suggested splitting up his pair with Phoebe. She then approached Nick to point out that David and Phoebe have been spooning, and as such, are aligned and need to be dealt with.
The tribes arrived to meet Jonathan and were shocked to learn that tribal immunity was placed on pause and that today, each tribe would compete amongst themselves for individual immunity and both tribes would go to tribal council tonight. Said challenge would require everyone to stand on a pole, holding two discs between a hand and the side walls. With the last ones standing on each tribe taking immunity. After a matter of minutes, John and Locky became the first two out of the challenge – nudie run? – quickly followed by Harry, while nobody from Mokuta had even dropped. Well, until I jinxed them and Moana dropped, while everyone by Jacqui looked close to death. Lee was the next to go, followed by a distraught Phoebe, Shonee, Mat and David.
Taking a leaf out of Shane's book, David started to strike up a conversation with Moana, assuring her that he won't target her tonight. Nick was eliminated from the challenge as the duo spoke about hooking up, with Moana keen to be his new Luke. Tarzan dropped out to give Jacqui a better shot at the Mokuta immunity, before Lydia lost her chance at the Vakama one. Not very athletic, no? Zach was the next to drop, leaving Sharn and Jacqui to battle for Mokuta's immunity, while Brooke, AK and Flick were still alive for Vakama. Until I jinxed them and AK was eliminated, leaving the ladies all to dig. Ultimately Jacqui proved unbeatable, as Sharn finally dropped her discs. Meanwhile the Vakama challenge proved more interesting as Brooke and Flick continued to fight, neither wanting to give up given the fact Flick blindsided Flick in their first season. Not that we'd know, since Flick hasn't spoken all season. One thing she has done is drop though, handing Brooke immunity.
Back at Vakama Shonee was thrilled to get rid of another two of her enemies, looking forward to getting rid of Lydia. And I assume, hoping Lee or Sharn go on the other. Lydia decided now would be the time to try and befriend Shonee, which she immediately shut down given they have no relationship and Lydia needs to exit her beach. Shonee, Locky, AK, Brooke and Flick caught up to lock in the plan, with everyone more than ok to stick with Lydia. Speaking of Lydia, she was desperate to find a way out of the situation and decided her best chance would be to pitch a Mat blindside to flush his idol … and get revenge for Champions vs. Contenders I. With that, she approached AK and Harry and wisely appealed to their egos, telling them a vote for her is boring and blindsiding Mat would be great for their resume.
AK was keen to go with the plan, but only if Lydia could convince John – easy – Brooke and Locky to join with them. Lydia approached the latter to see how they were feeling and despite it being risky, knew it was her only shot. Sadly for her, however, it didn't go unnoticed by Mat, who quickly deduced that he was her target and was working overtime to convince people to join her. Begrudgingly Mat approached Locky to see what was going on and pledged his allegiance to his former nemesis to stay safe for one more vote.
Side note, everyone reminded us that this is All Stars about 1000 times and I hate it.
Meanwhile over at Mokuta Jacqui was thrilled to have secured individual immunity before David scurried off to see whether he could convince Zach to align with him. They met up in the shallows and when Zach seemed open to voting out Nick – the OG snake – David commenced rallying the troops, pulling in Lee and Sharn, knowing that Phoebe would also be keen if it saves themselves. Not resting one his laurels, David reached out to Moana to see whether she can bring herself, Tarzan and Jacqui in on the vote, working together long enough to keep Mat happy if they reunite. With Mo and Co. keen, everything seemed to be done and dusted.
But damn, the Moana that slayed Russel is back and I am so thrilled to see her again. She caught up with Sharn and suggested that instead, they target Phoebe to weaken David's alliance and free up Nick. And she has zero qualms about it, given she told Dave that she would be loyal to him at the merge … but they haven't merged yet. I mean, that is low-key iconic. Speaking of icons, Phoebe was nervous about losing Nick and as such, pulled him and Sharn aside to catch them up and find another vote. Sadly for Nick, however, he suggested Moana as the next best option. The same Moana that is a dear friend of Sharn outside of the game.
Both tribes arrived at tribal council before Lydia spoke about the pain of Abbey being thrown under the bus and booted last tribal council. She then smugly spoke about there being cracks in the tribe, insinuating that she had been successful in using them enough to make a move. Mat admitted that he was nervous after receiving votes the night before, AK spoke about the ever-changing dynamics on the tribe and John admitted to being completely left out and just dragged along by the rest of the tribe. Lydia said that she was even further behind John, which makes no sense, given they are calm and dependable. And there are people sitting quietly on the tribe, waiting to fuck, shit up. Locky admitted to the tensions in their tribe, though wouldn't commit to any one person being more of a threat than any other. Talk turned to cars, with Mat saying he is in the car, but not driving it before AK decided to just claim the wheel and then told Jonathan that the vote won't change a thing. But will give them more room in the shelter. Which made Mat just a little bit nervous.
Jonathan turned his sights to Mokuta, with Jacqui sharing how thrilled she was to finally feel safe at a tribal council. David admitted that everyone was wary of tribal council, given the tribe hasn't had the chance to solidify their allegiances. Moana spoke about how lovely the new tribe was, glad to take some time to chill, bond and move past the dramas on the previous tribe. This annoyed Phobe, who said the issues were clearly still there since she wasn't invited to go swim and bond, and as such, she was nervous. Nick spoke about exploiting the cracks in the alliance, David said he was trying to plan for the future and Moana said she was confident and just wanted to vote.
While Phoebe and Sharn started to whisper, David agreed with Moana that he was feeling confident in the vote ahead. Which Sharn and Lee agreed with, all seemingly putting a lot of weight on this vote for dictating the rest of their games. Moana suggested someone will be surprised by the outcome of the vote, which made Nick feel nervous, reminding everyone that only Jacqui is safe. Speaking of Jacqui, she too … was confident in the plan going ahead.
Jonathan decided to add one more twist to the proceedings, announcing that while each tribe will be voting somebody out, only one would be exiting the game as the duo will face off in a fire challenge, leaving the victor to return to their tribe, desperate for some Shonee style revenge.
With that, the Vakama tribe kicked off the vote-a-palooza, followed by Mokuta, before Jonathan revealed that Lydia was narrowly voted out of the former ahead of John. Much to Shonee's slyly, smug delight. While the more confused Mokuta narrowly settled on Queen Phoebe over Nick and Moana. With that the women approached their fire stations to prepare for battle, with Phoebe nervously checking in on Lydia's fire-making ability. Which she self rated with a half-hearted, "yeah good." But, yeah, nah, they weren't so good, as Phoebe quickly got a spark – under Dave's guidance – while Lydia focused on building a tee-pee before focusing on the flame. With Phoebe first to get flame, she desperately worked to build it up. Her kindling quickly lit up, but just as quickly went out, giving Lydia hope. Though it was misplaced, as Phoebe relit the flame and got a roaring fire before Lydia even managed a spark, returning herself to the game and sending Lydia home.
Despite openly complaining about Lydia for most of the season, I was sad to see her arrive at Loser Lodge. Until I learnt that the other option was Phoebe, though I didn't tell her that. The fire she showed this entire episode reminded me of how great a villain she was in the first episode, so I decided to finally take her in my arms, apologise for our ongoing feud – she got me banned from the Olympics because I cheated, or something – and make her a kinda, Lydia Lassila. 2.0.
Like Lydia's slightly improved game this season, I decide to see her previous Lydia Lassila and change it just enough to be new, fresh and exciting. Out are the juicy, juicy mangoes and in are the strawberry and rose water. The latter of which gives a very feminine, glamorous edge, in honour of Queen Shonee who is out for athletic blood.
Enjoy!
Lydia Lassila 2.0
Serves: 4.
Ingredients
2 cups frozen strawberries, defrosted
2 cups natural yoghurt
½ cup milk
2 tbsp honey
¼ tsp ground cardamom
¼ tsp ground cinnamon
1 tsp rose water
Method
Chuck everything in a blender or food processor.
Blitz for a couple of minutes, or until well combined.
Pour into a glass and down, like an Olympic Champion that was bested by our queen, icon, legend Shonee.
As you can probably tell, we are very social but the fun isn't only limited to celebrities! You can follow us on Instagram, Facebook, Twitter, Pinterest and Tumblr.